Versions of You
The process of pacifying the conscious mind while allowing the unconscious mind to work sparks an idea into the conscious mind, which is then faced with the decision whether to accept the notion, or reject it. One can acknowledge positive and negative energy while collaborating with individuals to look for answers that may or may not exist. Once the acceptance of a new hypothesis transpires, advancement in the understanding of our human existence begins. No single person can be credited for the notations within these pages; the fact is that everyone in the world has played a part. The following chapter may push the envelope a little.
In every child-producing family there is a limited number of life energy placements open for fulfillment. These life vessels commonly support similar life energies that are subject to family energy levels.
There are noticeable physical and mental similarities when comparing particular family relatives. Familiar energies provide comfort to each other by exhibiting common physical and mental attributes, which, in turn, enhance the energy of the family unit. Family members are encouraged to adapt to conditions within the unit to preserve the structure. This natural compliance produces a common bond throughout life's triumphs and tragedies.
The path of each family is uniquely produced by the sum of their actions, which advance or decline family energy. These conditions alter life paths of family members, which are amplified after multiple lifetimes that advance or decline with each generation.
For family energy to endure the bloodline must continue. If family energy is allowed to discontinue (no offspring) the remaining life energies at the time of death become rogue and are then subject to "random selection," resulting in relocation into an accommodating family structure.
The Fabric
A person is removed from the time continuum when their body stops functioning. This person (right brain only) is instantly re-inserted back into the fabric as a newborn child. This entrance can transpire either forward or backward in the time fabric. Because life energies use many life spans to advance, new positions are filled using mature and immature versions of the same life energy. In other words, when an infant is born, the life energy could still exist in an additional life instance such as a sibling, parent, or grandparent. These energy layers vary to accommodate and educate future and past life energy instances. This repetitive platform steadily advances individual life energy. Large families advance more rapidly due to the additional placements available. Instances of life energies then multiply exponentially.
Family evolution produces variations in common life energies, which occur naturally throughout many lifetimes. Identification of these equal life energies can be confirmed by comparing physical and mental characteristics such as personality, talent, habits, eye configuration, hair patterns, birth marks, body type, likes and dislikes.
It is not unusual for a family to produce a breakout life version (person). This condition is due to an abnormal energy progression from a previous life in a positive or negative direction. This energy spike is the result of extreme life-altering conditions that occur over a lifetime.
Our worldwide life energy advancement system will continue to function until global humanity is realized, which will then conclude the earth's purpose for humans.
TUH
The main structure of the earth will last for billions of years as each climate cycle ushers in the next phase of life forms. Every life-sustaining planet in the universe serves as a possible human energy advancement platform. By observing the evolution of our existence the Golden Age Egyptians realized perfection while pollinating our human energy across the cosmos. The departure event produced a mathematical prediction to the beginning of the next positive energy cycle.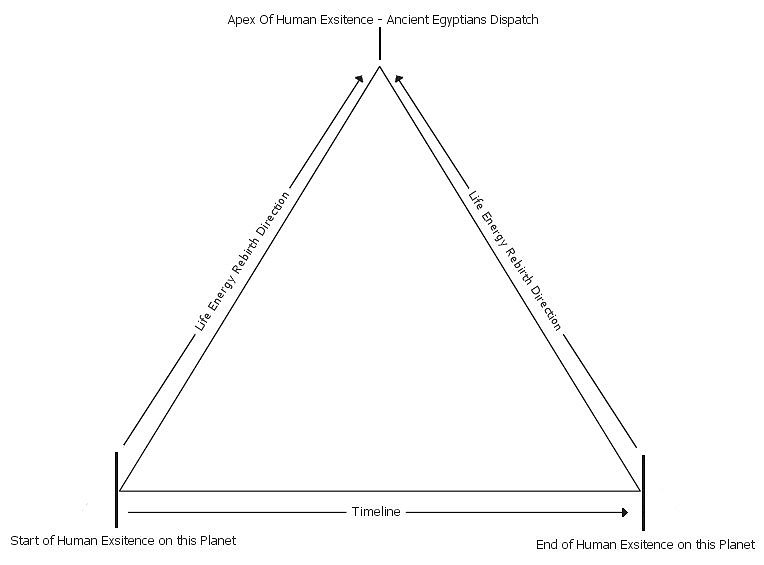 Apex
As present-day humans fully mature they are reborn back in time to the Golden Age Egyptian time period where they are included in the departure to our next world.
Though clues exist to the Egyptians' destination, conclusive evidence is unclear regarding their final destinations.
The End
Written by: TUH
Version – 1.0